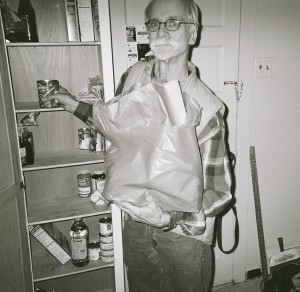 Established in 1994, the Interfaith Food Pantry was formed when a group from local houses of worship decided to address the growing issue of hunger by consolidating their food assistance programs.
There was a growing awareness that there were many families, especially senior citizens, who needed assistance in securing food and for longer periods of time than was currently offered. It was also noted that a centralized location was necessary, since many of those in need did not have transportation.
The group decided to consolidate their programs and work together out of one central distribution center in Morristown. They then reached out to seek the community's help in maintaining and staffing the project.
The Interfaith Food Pantry is a non-denominational, non-profit 501 (C) (3) organization helping families make ends meet by supplementing their monthly groceries in times of need.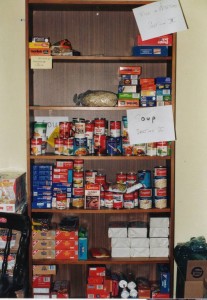 The Interfaith Food Pantry provides food and groceries to eligible Morris County residents. Applications are taken and food is given to anyone in need.
Groceries are collected from a variety of sources:
Houses of Worship, Businesses and Schools
Community Service Programs
Local Groups and Organizations
Individuals and Families
The Interfaith Food Pantry purchases food whenever donations run low in order to maintain our goal of providing reliable assistance to the community.
The Pantry is currently distributing more than 15,000 lbs of food to 325 families each week! The Pantry's clients are primarily senior citizens living on fixed incomes and low-income working families in Morris County.
Groceries are provided to anyone from Morris County in need who has appropriate facilities to cook the food given. Individuals schedule an appointment with the office to fill out an application and come to the Food Pantry for an interview so we can assess their need. They are then assigned to a distribution session. Our current clients include senior citizens, disabled individuals, low-income wage earners, unemployed workers and families in crisis. Each family is allowed to visit the Pantry monthly where they shop off the Pantry shelves, selecting what they need for their family. Fresh vegetables and meat are distributed when available.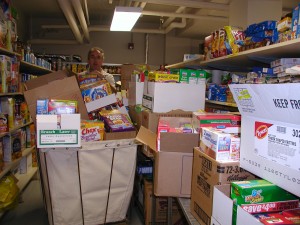 Last, but not least, we feel it is important to provide information and education about the needs in our community as well as volunteer opportunities where people can feel they have actually made a difference. With this in mind we offer tours, orientation programs to youth and adult groups, make presentations at local churches and clubs and provide volunteer projects for all ages.
Contact us at 973 538 8049 or interfaithfoodpantry@mcifp.org for more information!