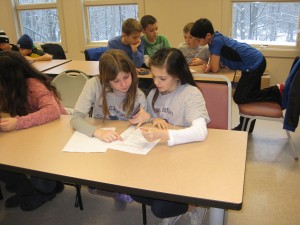 The Interfaith Food Pantry and Resource Center works with schools and educators to provide education about the issue of hunger in our local communities and the role of the Interfaith Food Pantry and Resource Center in ending hunger and supporting self-sufficiency. 
Programs, offered onsite and offsite, are designed to provide experiential and hands-on activities to engage students in making a difference in the lives of families in need.
Additionally, below are free resources that are available to all educators interested in delivering their own lessons and activities in their classrooms. Please feel free to download and use and please let us know about your experience.
For more information and/or to schedule a program, please contact Kiley Powell at KPowell@mcifp.org
Links to Curriculum