Be An Advocate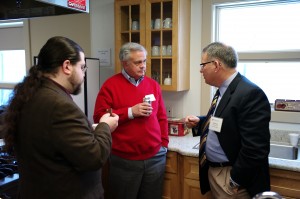 Becoming informed about the issues facing the Interfaith Food Pantry and its clients is an important step toward being an advocate. Current topics are outlined below. Please check back on this site for additional updates and ways you can help.
Current News
Many are aware that for each of the past three years – well after the "great recession" was declared over – the Interfaith Food Pantry has distributed about one million pounds of food. Many are also aware that during the end of 2016 and into 2017 we have been expanding our operations – both in scope and in geographic reach.
In spite of the official end to the Great Recession, several ongoing conditions, rising living costs and stagnant family incomes, make the expansion of our outreach in Morris County necessary. While Morris County is one of the wealthiest counties in the country – the 2016 median household income is $101,661 – a significant part of the local population does not share in the general prosperity.
While jobs are being created, most are in the lower paying service sectors and, increasingly, are not full time with benefits. Many Pantry clients have incomes that fluctuate during the year and thus are "poor" for periods of time. Others have incomes that fluctuate year to year and many simply have very low incomes in spite of full time work. Economists are coming to realize that lack of a steady income contributes to economic uncertainty because of the inability to make a commitment that requires a fixed monthly income. Recent studies (The Financial Diaries, Morduch and Schneider) have shown that many families prefer a steady income, even if somewhat low, to a higher but less predictable income.
Lack of affordable homes – a nationwide issue, but particularly problematic in Morris County urban areas –  has driven lower income families either out of the area or to the western or northern rims of the county where public transportation is limited and many services not available. Transfer of local social services to the County exacerbates the problem for those families in need of such services.
Small local food pantries simply do not have the capacity to deal with increasing numbers of clients and do not have the ability to provide fresh produce. Lack of transportation prevents many elderly families from accessing available food supplies.
Our expanded operations, including the mobile pantry, the farmers market, the senior box program, the pantry partner program, "Single Stop" and significantly increased "gleaning" operation are – like construction of 2 Executive Drive – the result of an extended strategic planning period, driven by the conditions described above. Our plan fully anticipated the need for increased resources as an expected consequence of our decision to ramp up our service to the greater Morris County community and, accordingly, includes enhancement of our resource development capacity.
We have benefitted from extraordinary levels of community support, especially since we made the decision to build our 2 Executive Drive headquarters, warehouse and distribution center. We have complete confidence that our supporters' commitment to "neighbors helping neighbors" will ensure our ongoing ability to serve as needed.
SNAP
The Supplemental Nutrition Assistance Program (SNAP), which many of our clients rely on in addition to the Interfaith Food Pantry, is at risk.
Learn about the "Show and Tell" campaign and how to get involved.
For more information about this topic, please refer to the links below.
ALICE – Asset Limited, Income Constrained, and Employed
Did you know?
According to a recent study by the United Way, 1.1 million New Jersey residents struggle to make ends meet.
In 2011, more than 5,500 Morris County households sought help to put food on the table.
Many of your neighbors quietly struggle with hunger.
Is ALICE your neighbor? Is ALICE you? Help is available. Click here.
---
Take Action
House budget slashes food stamps, school meals. Take action!
The U.S. House Budget Committee is working on a Fiscal Year 2018 budget that includes trillions in cuts for programs that help struggling families afford basics, including SNAP food assistance, school meals, housing and health care, even as it promises more tax breaks to the wealthy.
There's still time to stop these harmful cuts! Your voice matters. Please call your Congressional representative today. It's easy. Just click here, enter your address and it will give you contact information for your representative.
Sample script: I am calling to urge (Name of your representative) to reject cuts to food assistance for children and adults and other anti-poverty programs. These programs provide essential supports to many New Jersey residents struggling to make ends meet. Please protect this critical safety net.
You can also reach out to your Members of Congress through social media. Find your Members' Twitter handles.
More Info
The proposed budget includes a $150 billion cut to the Supplemental Nutrition Assistance Program (SNAP, commonly known as food stamps) over 10 years and a $1.6 billion cut in "Community Eligibility" funding for school meals, which allows high poverty schools to feed all kids for free.
These harsh cuts to SNAP, school meals and other poverty-reduction programs will hurt the most vulnerable in our society, including children, the elderly and people with disabilities.
SNAP helps struggling families and workers put healthy food on their tables. It's one of our most powerful and cost-effective tools to strengthen the economy and improve public health. School meals are an essential source of nutrition for millions of low-income students.
Please call your Congressional representative today. 
To stay up-to-date and receive "Advocacy Alert" emails from the Pantry, click the button below to join our list.