Be An Advocate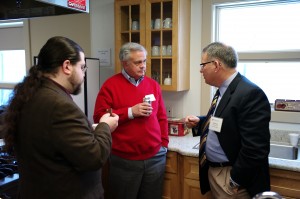 Becoming informed about the issues facing the Interfaith Food Pantry and its clients is an important step toward being an advocate. Current topics are outlined below. Please check back on this site for additional updates and ways you can help.
2016 Legislation
The makeup of the Legislative and Executive branches of our national government will have a significant impact on the basic thrust of legislation affecting Pantry clients and food insecure folks across the country. In particular, there are currently competing House and Senate versions of the "Childhood Nutrition Reauthorization" (CNR).
The Child Nutrition and WIC Re-authorization Act authorizes all of the federal child nutrition programs, including the School Breakfast, National School Lunch, Child and Adult Care Food, Summer Food Service, and the Fresh Fruit and Vegetable Programs and WIC. These programs provide funding to ensure that low-income children have access to healthy and nutritious foods where they live, play, and learn. Congress reviews these programs through the re-authorization process.
CNR has been debated for months and, so far, neither body appears willing to compromise. The basic issue is whether childhood nutrition programs will be treated as entitlements (Senate version) – if you qualify for program support you get it – or as block grants (House version) – a fixed amount is allocated to each state's childhood nutrition programs and when the money is gone program benefits end. We at the Interfaith Food Pantry support the entitlement approach.
CNR is unlikely to be finalized until after the election.
More detailed information is provided at http://frac.org/leg-act-center/cnr-priorities/
SNAP
The Supplemental Nutrition Assistance Program (SNAP), which many of our clients rely on in addition to the Interfaith Food Pantry, is at risk.
Learn about the "Show and Tell" campaign and how to get involved.
For more information about this topic, please refer to the links below.
ALICE – Asset Limited, Income Constrained, and Employed
Did you know?
According to a recent study by the United Way, 1.1 million New Jersey residents struggle to make ends meet.
In 2011, more than 5,500 Morris County households sought help to put food on the table.
Many of your neighbors quietly struggle with hunger.
Is ALICE your neighbor? Is ALICE you? Help is available. Click here.
---
Take Action
Feeding America has provided through its advocacy hotline a simple way to get our message across:
Call 999-398-8702
Listen to the pre-recorded message and enter your zip code when prompted
Once you are connected, please tell the person answering the phone that you are a constituent, the issue you wish to discuss and give your name and hometown. Be sure to tell them you are a supporter of the Interfaith Food Pantry
To stay up-to-date and receive "Advocacy Alert" emails from the Pantry, click the button below to join our list.