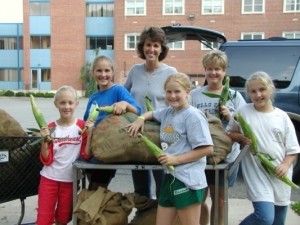 Youth Involvement Program
The IFP believes that early education about the causes of hunger and what can be done about it is key for our youth to be able to adequately address the problem as adults. After school programs for scouts, school, civic and worship-based groups include a tour of the Pantry, which incorporates a "behind the scenes" look at the path food donations take from drop-off to a client's shopping cart, as well as opportunities for hands-on volunteer experiences. After school programs, conducted by volunteer guides who are former teachers, are offered twice a week on Monday and Thursdays.
Opportunities are also available for groups to volunteer on weekends with assistance provided to develop their own activities off-site.
Off-site programs designed to provide education about local hunger issues and IFP's role in the community via presentations to schools, scouts, civic and worship-based groups are also offered.
For more information and/or to schedule a visit, please contact Kiley Powell at KPowell@mcifp.org. Please note that these programs book very quickly, please plan to schedule well in advance of your anticipated visit. 
Below is a short video that gives some more information about the pantry.  Learn about IFP
Host a Fundraiser