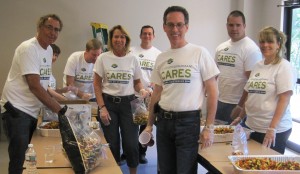 Corporate team building events that are centered around making a positive difference in our community are a great way to foster employee camaraderie, pride, loyalty and retention. We welcome your participation and are happy to offer the opportunity for you employees to volunteer with our program. Please note the following guidelines:
Corporate volunteer events are scheduled for Fridays when we are closed to food distribution and have limited staff volunteer activity. The typical hours are 9:30am-noon, but may be able to accommodate an afternoon schedule if mutually agreed upon in advance.
If you would like to schedule a group outing please contact us well in advance. Dates are subject to availability and booked on a first-come, first-serve basis.
The typical group size is 6-12 people. Final numbers and assigned tasks will be confirmed with you one week in advance.
Please note that group tasks are critical to our operation so if you need to cancel for any reason, we ask that you notify us as soon as possible so we can make alternate arrangements.
Please note that some group activities may include cleaning, gardening, bending / lifting, working outdoors, or standing for long periods of time. You will be given a description of the tasks your group will be assigned
Please dress comfortably and appropriately for the work to be performed.
Kitchen to Table
The IFP currently serves about 150 households each month through its "Home Delivery" program. This program pairs home-bound elderly, disabled and medically fragile individuals with volunteers who bring them food on a bi-weekly or monthly basis. This program enables clients to live independently; however, many face a challenge to easily prepare healthy foods due to physical limitations or the cooking facilities available to them.
To meet this need the IFP has developed a "Kitchen to Table" program, which will provide this at-risk population with healthy foods that can be frozen, thawed and easily cooked in the microwave.
Like all IFP programs the "Kitchen to Table" program was developed to meet a specific need while offering opportunities for community involvement. Working alongside IFP staff, you and eight to ten of your employees will work as a team to help prepare and package meals for our home delivery clients. This is a fun, rewarding activity that encourages teamwork, builds camaraderie and fosters good-will among your employees. We simply ask that you cover the one-day costs of the program with a $1,000 contribution. This will cover all ingredients, packaging materials, staff time (including research and delivery oversight costs), utilities, insurance and equipment depreciation.
As an added benefit to your group, photos and the use of the IFP brand will be provided to you for your cause-related marketing efforts and social media pages, and you will receive recognition as a Kitchen to Table sponsor on a special section of our website and in our annual report.
To schedule a group visit or for more information, please contact Allison Sillence, volunteer coordinator at 973-538-8049 x218 or email allisonsillence@mcifp.org