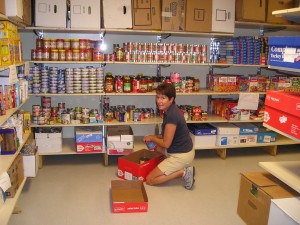 Volunteer FAQ
Please Visit our Help Wanted Page for Current Information
Q: Where is the Food Pantry located?
A: The Food Pantry has two locations. The main location is at 2 Executive Drive in Morris Plains, NJ. This location houses Pantry staff offices, the warehouse, a teaching kitchen, and our "Client Choice" Pantry that is used for food distribution to clients. Executive Drive is located off Central Avenue right across from the Central Park of Morris County.The second location is at 190 Speedwell Avenue in Morristown, NJ. This location also has a "Client Choice" Pantry, and serves primarily clients from the local area who do not have transportation to the Executive Drive location.
Q: What do volunteers do?
A: Volunteers fill a variety of roles at the Food Pantry, including sorting food for distribution to clients, assisting clients during food distribution sessions, leading tours of the Food Pantry, speaking to outside groups about the Food Pantry, assisting with general office work including mailing newsletters and other Food Pantry informational items, and providing specialized assistance such as database support. Volunteers also fill the critical need of delivering food to home-bound clients. More information is detailed on the volunteer application.
Q: Is there parking available?
A: There is ample, free parking at 2 Executive Drive, Morris Plains. Parking at our 190 Speedwell Ave., Morristown location is limited.
Q: How do I sign up to volunteer?
A: Our volunteer application is available here or by calling 973.538.8049. When a volunteer opening becomes available, an appointment is made to complete paperwork, do an orientation, and complete task-specific training.
Q: Is the Food Pantry able to accommodate the special needs of disabled volunteers?
A: Yes. We work on a case-by-case basis. Please call the Volunteer Coordinator at 973.538.8049 x 218 for more information.
Q: What should I wear when volunteering?
A: Dress comfortably and for the season and activity. Closed toed shoes are required in the warehouse.
Q: Please describe the Food Pantry's Home Delivery program, and what services Home Delivery volunteers provide.
A: Screened volunteers are matched to a homebound client identified by our Client Services manager. Deliveries are bi-weekly or monthly, and volunteers shop during pantry business hours from a pre-determined, client-specific dietary profile.
Q: Do you provide documented proof of volunteer hours?
A: Yes, we record all volunteer hours which support letters for community service as well as useful data when applying for grants and for report creation.
Q: Do I need to schedule my volunteering time in advance, or can I just show up?
A: We have many volunteers to coordinate with tasks so advance scheduling is required. Walk-ins cannot be accommodated.
Q: Can I volunteer for just an hour or two?
A: If you'd like to help out for only an hour or two, check out our Special Project Volunteer opportunities. Other than those exceptions, very-short-term volunteers are not permitted. Because of our volunteer screening placement and process, a more significant time commitment is requested.
Q: Can youths volunteer at the Food Pantry?
A: We prefer for our teenage volunteers to be of driving age which allows flexibility in assigning volunteer tasks as well as allowing for sports and school responsibilities.
Q: Do adults need to accompany youth volunteers?
A: Children sixteen and under need to be accompanied by a parent or guardian (21 years or older) while performing pantry assigned tasks.
Q: Can I bring a group?
A: We welcome corporate, scout, school and other types of groups to the Pantry during business hours. Corporate groups are usually scheduled on Friday mornings or afternoons. Class field trips are scheduled at a mutually convenient date and time. Scout and other youth groups are scheduled after school on Monday and Thursday afternoons. Special circumstances can be discussed with the volunteer coordinator. We do our utmost to accommodate all community members. We limit group size to 12 people maximum due to space considerations.
Q: Can I volunteer just at Thanksgiving or Christmas?
A: We are closed on major holidays, including Thanksgiving and Christmas Day. Our Thanksgiving turkey and holiday bag distribution starts in early November and is an involved process. We have many repeat corporate and community groups as well as individuals that participate in this process. Please call by no later than mid-October and we will make every attempt to accommodate you or your group.