PLEASE NOTE:  
Most volunteer jobs are "staff" volunteer positions meaning we ask you to commit to a regular schedule.  In addition, most take place Mon-Fri 9am-5pm.  We receive many requests for opportunities for children and weekend volunteer opportunities, please note these are currently limited to Home Delivery (see below).  
New volunteer opportunities! 
IFP Farmers Market at 190 Speedwell Ave., Morristown:  Several able bodied individuals are needed to unload IFP vans, unpack produce boxes and setup for farmers market every other Thursday from 3:30 to 4:30pm.  Must be able to lift between 40 to 50 pound boxes.  After set up, one or two individuals will be asked to pack bags for 10 clients and deliver them to Morris Mews, located on the corner of Ketch Road and W. Hanover Ave. in Morris Township.
Produce Handlers/Packaging at 2 Executive Dr.: Volunteers with flexible schedules "on call" when needed to sort and bag fresh produce.  Usually afternoons, position requires standing.
Distribution at 2 Executive Dr.:  Assist clients selecting food from Pantry shelves during distribution on Wednesday evenings from 6:00pm to 8:00pm, once or twice per month. Training provided.
Home Delivery to elderly and/or disabled clients. Once or twice/month you'll shop at the Pantry for your assigned client and deliver to their Morris County home at a mutually agreeable time. -position is currently filled but there is a waiting list available.
Food Pickups Volunteers willing to use their own vehicles to pickup food from area companies, congregations,  etc.   Requires ability to lift depending on nature of food drive.  Takes place as needed (on occasion) Mon-Thursday 9:30am – 4:30pm.
Kitchen2Table Lead Instructor at 2 Executive Dr., Morris Plains:  Culinary/commercial food preparation knowledge or experience plus supervisory and organizational skills.  Serve-Safe certification a plus, but will train. Lead groups in food prep, cooking and packaging.  Commitment: 1 Friday per month from 11:00am to 4:00pm plus time to prep food/prepare kitchen & menus.
Kitchen2Table Assistant at 2 Executive Dr., Morris Plains:  Culinary/commercial food preparation knowledge/experience with good knife skills.  Assists instructor in supervising groups of 10 to 12 people in food prep, cooking and packaging of food for Home Delivery clients. Commitment:  1 Friday per month from 11:00am to 4:00pm.
Full Job Descriptions are here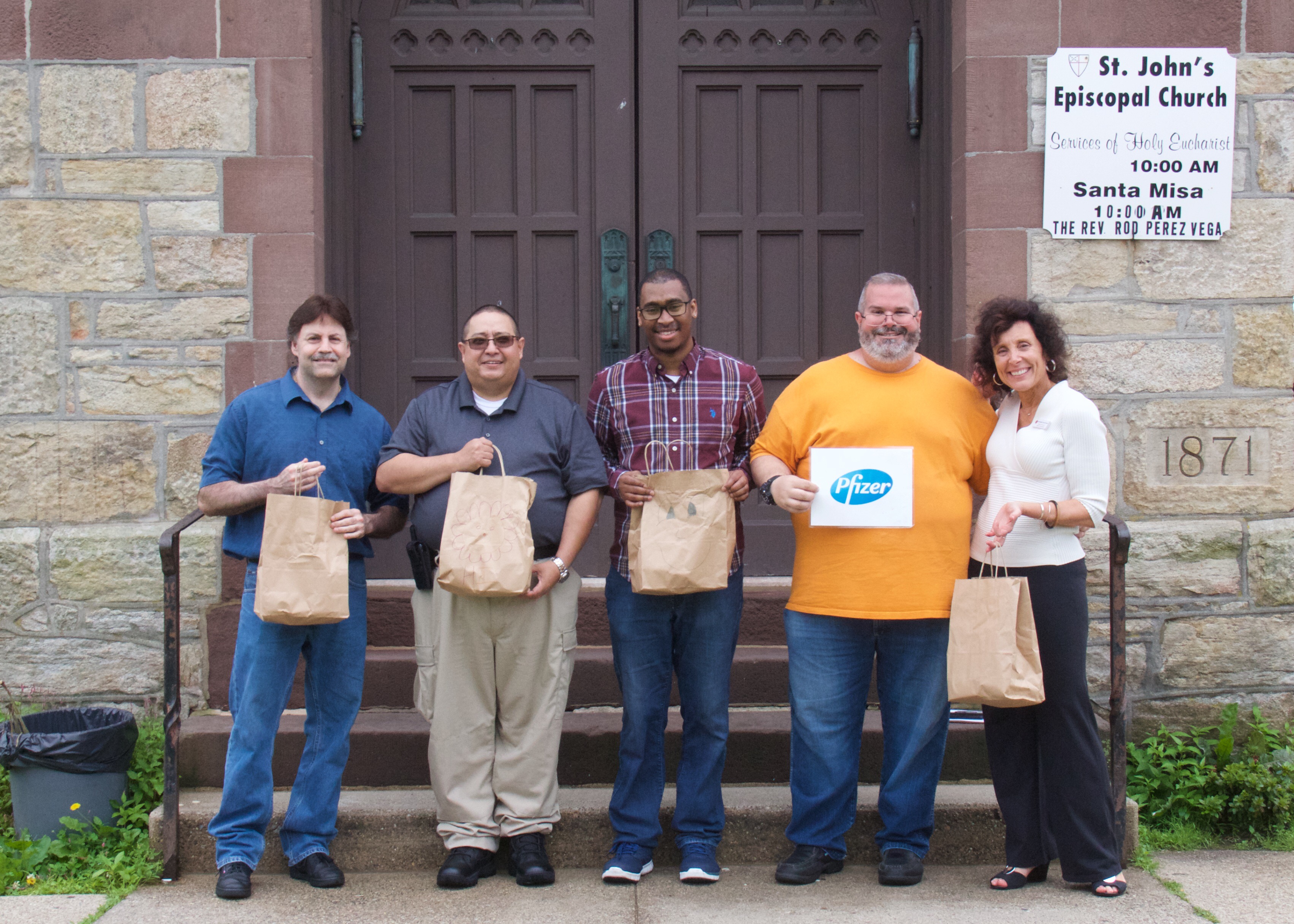 .
 If interested please contact Allison at allisonsillence@mcifp.org or call 973-538-8049 x 218.
Questions? Click here for a list of Volunteer Frequently Asked Questions.
NOTE: We accept staff volunteer applications year-round, but please be aware that there may not be an immediate opening that accommodates your desired time and activities. We will, of course, be in touch when an appropriate opportunity becomes available. Click here to download the application.
Check back often to see what's going on, as our needs change – but we always need your help!
PLEASE NOTE: The Interfaith Food Pantry is closed on most major holidays, including Thanksgiving and Christmas. We do not serve holiday meals at the food pantry.
Click here for Directions to the Pantry.
For additional information, you may also contact our Volunteer Coordinator, Allison Sillence at allisonsillence@mcifp.org