Below are resources by grade level available to help educate students about the issue of hunger and food insecurity and to encourage advocacy in their own communities. Lessons or group sessions can be created by either reviewing our "IFP Hunger in Our Communities" PowerPoint or viewing the video "Voices From the Pantry" and following with one of the activities listed below.
IFPN Programs for Educators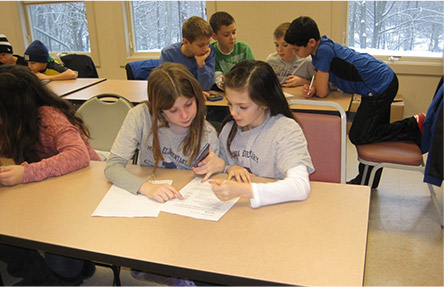 The Interfaith Food Pantry Network works with schools and educators to provide education about the issue of hunger in our local communities and the role of the Interfaith Food Pantry Network in ending hunger and supporting self-sufficiency.
Programs, available onsite and offsite, are designed to provide experiential and hands-on activities to engage students in making a difference in the lives of families in need.
For more information and/or to schedule a program, please contact Kiley Powell at KPowell@mcifp.org
Resources for All Teachers
Grades K-2 Activities and Curriculum
Grades 3-5 Activities and Curriculum
Grade 6-8 Activities and Curriculum
High School Activities and Curriculum
Every Person Counts
so Every Dollar Counts
With the recent COVID-19 outbreak, more and more families and at-risk seniors are sheltering in place and need our support. Your contribution can help fund some or all of our programs.
Donor Advised Funds

Charitable Impact

Qualified Charitable Distribution (QCD)